While researching a few days ago, I ran across an advertisement in the May 26, 1893 issue of the Jasper Weekly Courier (Missouri).  The headline caught my eye – "When you're Rubbing" – accompanied by a picture of woman in various positions over a washtub and washboard.  It was a bit intriguing because I wasn't exactly sure what was being advertised.
The ad referred to "Pearline's way of washing" – what was "Pearline's way"?  Was it an actual product or some kind of technique to make wash day (usually Monday) a breeze?  It was one of many clever advertisements printed in newspapers and magazines all over the United States in the late nineteenth century and early twentieth.  New York businessman James Pyle was the manufacturer and his ads usually ended with an admonition to accept no imitations.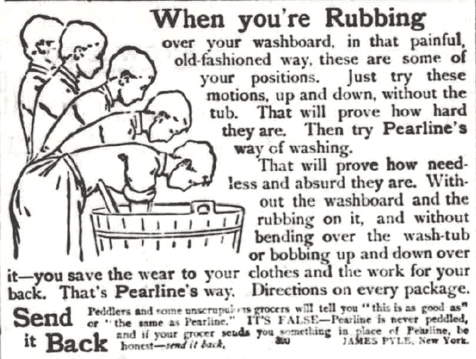 If a peddler or "unscrupulous grocers" purported to sell something that was as good as Pearline, that would be FALSE, for you see "Pearline [was] never peddled", a recurring tagline for the product that must have been their motto: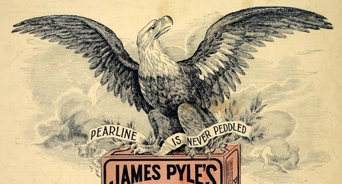 The rest of the advertisement extolled the virtues of the multi-purpose product.  For all cleaning purposes, dissolve a tablespoonful of Pearline in a pail of water (more if hard water); warm water worked the best, but wasn't required – just don't use soap!  Instructions were include to make a "soft soap" – a pound of Pearline in a gallon of boiling water, add three gallons of cold water, stir and voilá Soft Soap.
Pearline was appropriate for washing clothing of the finest fabrics to flannel; for washing dishes it was "magical"; cleaning paint, marble, windows, silver, jewelry, and more; for bathing it was a "luxury".  Such a fabulous product – what was it made of?
I couldn't find any advertisements which listed the ingredients, not even on images of  product packaging.  Perhaps the company considered their product ingredients proprietary trade secrets?  The product packaging stated in bold letters:
THE GREAT INVENTION
FOR SAVING TOIL & EXPENSE WITHOUT INJURY TO THE TEXTURE, COLOR OR HANDS
The July 1888 issue of The Peterson Magazine claimed that chemical analysis would prove that Pearline had no caustic qualities whatsoever, but somewhat vaguely stated "that the ingredients of which it is made have been so skillfully manipulated, that Pearline stands to-day the greatest household detergent known.  Its rapid adoption by intelligent and economical housekeepers, who use many millions of packages each year, should lead those who do not use Pearline to try it at once. . . . Beware of imitations which are being peddled – they are dangerous."
I began to research James Pyle and finally received a potential ingredient clue, and some family history at a genealogy blog called "From Maine to Kentucky" (if you're interested in genealogy you might want to check it out).  Elizabeth Handler wrote an article in 2011 about her ancestor James Pyle.
James Pyle was born in Nova Scotia on August 16, 1823, the son of a Loyalist who fled there during the Revolutionary War.  The family returned perhaps sometime in the 1840's and by 1860 James was married with three sons: James, William and Charles.  His occupation is listed as "Salaeratus Mfr."  Ms. Handler discovered another reference to "saleratus" (an alternate spelling) in an 1859 New York City directory with James Pyle listed below it.  She also discovered that the word means "sodium of potassium bicarbonate used as a leavening agent", more commonly known as baking soda.
Could this be Pearline's secret ingredient?  By 1870 James and his family were prospering rather well with real estate holdings of ten thousand dollars, a personal estate of two thousand and three servants.  For that census he was enumerated as a manufacturer of soap.
City directories of the 1870's continue to list his occupation as "soap" and in 1880 he is enumerated as a "soap manufacturer", as are his sons James and William (Charles died at the age of sixteen in 1873).  The 1884 New York city directory lists a company called "James Pyle & Sons" (soap), so it was then a family-owned business.
In the early 1860's the product had been called "O.K. Soap" and small advertisements began appearing, but not the elaborate ones seen in later years.  James was a friend of Horace Greeley and one day Greeley asked why he didn't advertise his product.  James replied that he couldn't afford it.  Greeley gave him a New York Tribune advertising rate card and explained that fourteen lines of small type made an inch of space.  He encouraged James to try it for one year and if he wasn't satisfied with the results, he didn't owe a cent.  The rest is history.
James' obituary would later note that he "Brought O.K. Into Popularity" and that "he was the first to utilize in advertisements the letters 'OK' in their business significance of 'all correct.'" In case you missed it, I wrote an article earlier this year about the origins of "OK": "Historical Pre-Text (It's OK)".
"Pearline" was first used in August of 1877, although the trademark application wasn't filed until November 21, 1899.  A short time later, on January 20, 1900, James Pyle died.  William died in 1906 and a new factory was built in New Jersey in 1907 with James Tolman Pyle heading the company.  By this time, the company had no doubt invested thousands of dollars in advertising, but decided to discontinue advertising for awhile, perhaps because the product was so well known after years of flooding the market.
Two years later James Tolman Pyle died on February 8, 1912.  Procter & Gamble snatched up the rights in order save the company from bankruptcy.  P&G renewed the Pearline trademark in 1946 and the Hewitt Soap Company renewed it in 1983.  Hewitt Soap Company became a subsidiary of P&G in 1933, was sold to American Safety Razor in 1980 and in 2003 was acquired by the Bradford Soap Company.  Whatever became of Pearline is unclear – a search at the Bradford Soap Company yielded zero results.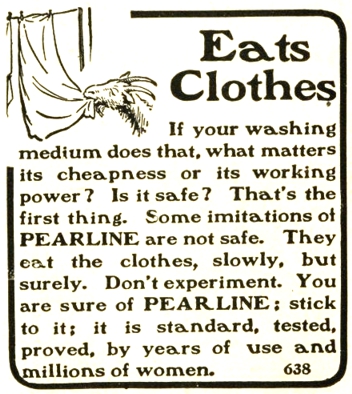 The Pearline advertisements and marketing campaigns were innovative, and as James Pyle realized a year after Horace Greeley made his magnanimous offer,  worth every penny.  The advertising and marketing campaigns also included trading cards, pins, posters, figurines and more.  Search for them at Google or eBay if you're a collector of historical advertising items.
Sometimes I don't know how these Monday "Musings" or "Meandering" articles will pan out.  The Pearline ingredient list still remains a mystery to me, but after stumbling across Elizabeth Handler's blog, I discovered an interesting blog I'd like to read and a way to link it to a previous article that might not have received much attention – couldn't ask for a much better start to the week!  Cheers!
Have a GREAT day . . . someday it will be HISTORY!

© Sharon Hall (Digging History), 2015.