Let's face it — everyone has relatives they're not necessarily proud of.  Harper Lee, author of acclaimed novel To Kill A Mockingbird, said it best:
You can choose your friends but you sho' can't choose your family, an' they're still kin to you no matter whether you acknowledge them or not, and it makes you look right silly when you don't.
Last week I wrote an article entitled "Are We All Cousins?".  In the article I illustrated an instance of pedigree collapse in the Hall line and mentioned "an anomaly of sorts on the Strickland side." Mary Angeline Hensley was both my great-great grandmother and my great-great-great aunt (if my calculations are correct).
My three-times great grandmother Eliza Boone (Mary Angeline's mother) married James Henry Hensley at the age of eighteen in 1855.  Eliza was born in Rankin County, Mississippi and she and James were married in Lafayette County, Arkansas.
Sometime after their first child John was born in 1856, James and Eliza migrated to Jack County, Texas to become cattle ranchers.  Their daughter Mary Angeline was born in 1857, followed by another daughter Pink in 1861 and one more son, Henry, circa 1862.
James Henry Hensley died in February of 1865 at the age of thirty-six, leaving Eliza with four children and a cattle ranch to run.  Eliza married John Wesley Brummett probably around 1866 or 1867 in Jack County.
The family was enumerated in 1870 with Eliza's four Hensley children and two of their own, Lizzie (3) and Wilborn (4 months).  Eliza's oldest daughter, Mary Angeline Hensley, was thirteen years old.  Another daughter, Sarah Belle Brummett, was born around 1871.
There appears to have been some hanky-panky going on though.  According to Hamilton County, Texas history, John Wesley and Mary (Hensley) Brummett came to the county in 1874.  John had married his step-daughter (I haven't been able to locate the marriage record, however), and if the divorce records are correct, his and Eliza's divorce was not finalized until April 7, 1879 in Jack County.  A distant cousin believes that J.W. and Mary ran off to Illinois (his birth place) and then returned to settle in Hamilton County, though their first child was born in Kansas.
After reading testimony and depositions regarding attempts by Eliza's family to get on the Dawes Commission Rolls (Indian Rolls), I strongly suspect there was "bad blood".   All throughout the proceedings, every single person in Eliza's family, including Eliza herself, never once acknowledged or mentioned Mary Angeline as her daughter (sort-of-like "you're dead to me").  By the way, Eliza and other family members were unsuccessful in their attempt to get on the rolls — they made it the first time and had it overturned (identity of an ancestor too sketchy apparently).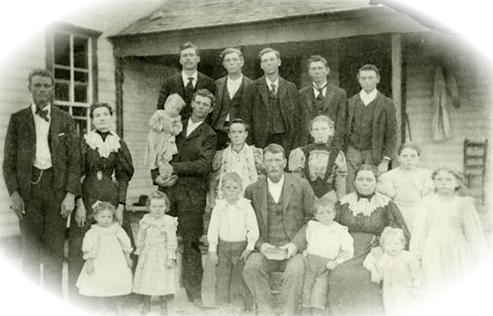 John Wesley Brummett had fathered three children with Eliza.  He fathered SEVENTEEN children with Mary.  Two of those children died shortly after their births and one daughter, Maggie May (age four), died in 1900 of a snake bite.
After Mary died in 1906 (my theory — he killed her with all those kids!) he married Mary Owen, a widow with four children of her own.  They had one child together, Lincoln, born around 1908-9.  Impressively, J.W. Brummett fathered TWENTY-ONE children!
Despite whatever hanky-panky might have occurred, John Wesley Brummett appears to have become a pillar in his community.  He helped purchase land for the Fairy Church of Christ in 1896 and was a faithful member until his death in 1935.
I categorize this story (at least somewhat) under the heading of "black sheep" — in my family research I haven't found any crazies or murderers (yet).  What about your family . . . any crazies, black sheep or murderers?  Leave a comment below and share (if you dare!).
Have a GREAT day . . . someday it will be HISTORY!

© Sharon Hall (Digging History), 2015.