This hymn was written in 1904, a team effort by Civilla Durfee Martin and her husband Reverend Walter Stillman Martin, while they were attending the Practical Bible Training School in Lestershire, New York.  Stillman was also assisting the president of the school, John Davis, in publishing a songbook.
Stillman, a well-known Baptist minister and evangelist, had been invited to speak at a church some distance from the school where they were staying.  However, that Sunday morning Civilla had fallen ill and unable to accompany her husband.  Although Stillman considered remaining behind to care for his wife, his son admonished him to believe that God would take care of his mother while he was away fulfilling God's assignment.
Stillman agreed with his son and, as it turned out, the service was especially moving with several people professing their faith in Christ that day.  Stillman returned that evening and found that Civilla, feeling much better, had written the words of a new hymn based on the question her son had asked his father, "Don't you think that if God wants you to preach today, He will take care of Mother while you are away?"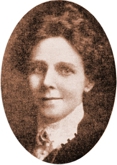 Civilla Dufree Martin was born on August 21, 1866 in Nova Scotia to parents James and Irene Holden.  Before meeting Stillman she had studied music and had written several hymns, often using her initials, CD Martin, instead of her full name.  In fact the two shared a mutual love of music, which was what brought them together.  Stillman was born on March 8, 1862, attended Harvard University to study for the ministry, and was later ordained as a Baptist minister.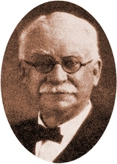 When Civilla told him of how she was inspired to write the words of the hymn, Stillman sat down on a Bilhorn organ and wrote the music on the spot.  By evening's end the hymn, God Will Take Care of You, had been written and composed.  The song, which became quite popular, was published the following year in Songs of Redemption and Praise, the hymnal Stillman and Davis had been compiling.
Be not dismayed whate'er betide,
God will take care of you;
Beneath His wings of love abide,
God will take care of you.
Refrain
God will take care of you,
Through every day, over all the way;
He will take care of you,
God will take care of you.
Through days of toil when heart doth fail,
God will take care of you;
When dangers fierce your path assail,
God will take care of you.
All you may need He will provide,
God will take care of you;
Nothing you ask will be denied,
God will take care of you.
No matter what may be the test,
God will take care of you;
Lean, weary one, upon His breast,
God will take care of you.
Stillman and Civilla became members of the Disciples of Christ denomination after he took a job as professor at Atlantic Christian College in North Carolina.  Later they made their home in Georgia while continuing to evangelize, until Stillman's death in 1935.  Civilla passed away thirteen years later on March 6, 1948.
His Eye Is On The Sparrow, another popular hymn later popularized by Billy Graham Crusade soloist Ethel Waters, was also written by Civilla and the music written by Charles Hutchinson Gabriel.
Have a GREAT day . . . someday it will be HISTORY!

© Sharon Hall (Digging History), 2015.