Like the so-called Bermuda Triangle, which stretches along lines from Florida to Bermuda to Puerto Rico and back to Florida, the Vermont phenomenon known as the "Bennington Triangle" is full of intrigue and mysterious disappearances — although precisely where the "triangle" is situated seems unclear.  The Appalachian Mountain Club calls it the "Triangle of Doom."  Even though the last reported disappearance occurred well over sixty years ago, it's still remains a mystery and was featured in a July 2012 episode of William Shatner's Weird or What? cable television series.
Bennington, Vermont was chartered on January 3, 1749 by Colonial Governor Benning Wentworth (of New Hampshire) and first settled in 1761.  Located in Bennington County in the southwest corner of the state, Bennington is one two county seats, the other being Manchester.
Today there are three historic districts:  Old Bennington, settled in 1761 by Congregational Separatists from Connecticut and Massachusetts; Downtown Bennington and North Bennington.  During the Revolutionary War the Battle of Bennington was fought about ten miles away in Walloomsac, New York as part of the Saratoga campaign.  Two thousand patriots from New Hampshire and Massachusetts and Vermont's Green Mountain Boys decisively defeated British forces there.
The area, with nearby Glastenbury Mountain, has long had an air of mystique.  According to Paranormal-Encyclopedia.com (and others), "Native Americans shunned the mountain, believing that the four winds "met" at the top of it and they used the mountain only as a burial ground. European settlers told tales of strange lights over Glastenbury Mountain.  Unsourced odors and tales of Bigfoot-type sightings permeated the mountain woodlands."
1945
The first incident occurred on November 12, 1945 when seventy-five year old Maddie Rivers, an experienced mountain guide, was guiding a group of four hunters.  At one point he was walking ahead of the group but was never seen again.  The only evidence proving he had been in the area was a rifle cartridge found in a stream.
1946
A little over a year later on December 1, 1946, Paula Welden, a sophomore at Bennington College, was hiking on the Long Trail.  Several people had witnessed her beginning the hike and at one point an elderly couple had seen her about one hundred yards ahead of them.  They saw her turn a corner, but when they reached the corner Paula had disappeared.  When Paula didn't return to the school an extensive search was conducted and a $5,000 reward posted.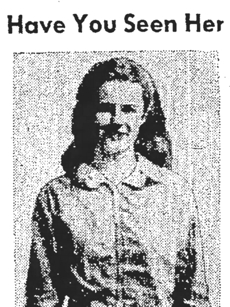 Someone matching her description was spotted by customs officials about ten days later, but local authorities were skeptical.  Even though the FBI became involved no trace of her was ever found, although some suspected she may have moved to Canada with her boyfriend or simply became a recluse up in the mountains.
1949
Three years to the day when Paula Welden disappeared, James Tedford disappeared on December 1, 1949.  Tedford, a resident at the Bennington Old Soldiers Home, had been visiting relatives in St. Albans and was returning to Bennington by bus.  Like Paula Welden, several witnesses observed Tedford boarding the bus and attested to his presence on the bus at the last stop before Bennington.  Somehow, somewhere between the last stop and Bennington, James Tedford disappeared into thin air, his luggage left behind.
1950
In 1950 there were two mysterious disappearances, one a young child.  On October 12, 1950, eight year-old Paul Jepson, Jr. had been left in a truck while his mother went to tend some pigs.  She was away for about an hour and when she returned Paul was nowhere to be seen, "dropped from sight as completely as though the ground had opened and swallowed him" as one account described it.

Search dogs were utilized but the scent was lost when they reached a local highway, coincidentally near where Paula Welden was last seen in 1946.  Paul had also been wearing a very visible red jacket.  Even after a Coast Guard helicopter was brought in, there was still no trace of the young boy.  Someone had seen a boy matching Paul's description walking toward the Vermont state line, but his parents had little hope of finding him, believing the boy's description did not match their son's.  Paul Jepson, Jr. was never seen again.
Sixteen days later on October 28, the fifth and final mysterious disappearance occurred when fifty-three year-old Frieda Langer was on a hike with her cousin Herbert Elsner.  Frieda had slipped and fell into a stream and told Herbert she would return to camp, change clothes and return if he would wait for her there.
Frieda did not return and when Herbert returned to the camp he discovered she had never made it back there.  Again, ground crews, aircraft and helicopters were employed in the search for Frieda.  Initial efforts were fruitless, but on May 12, 1951 her body was found near Somerset Reservoir.  Of all the mysterious disappearances in the previous five years, her body was the only one found.  Unfortunately, the deterioration of her body made it impossible to determine the cause of death.
Other than the general area of the disappearances, no one was ever able to find a link between any of them.  After five disappearances in the same general in a five-year period, the headlines on November 1, 1950 read like this: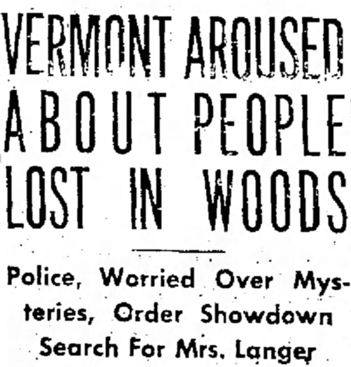 The area didn't receive its designation as the "Bennington Triangle", however, until 1992 when local author Joseph A. Citro coined the phrase during a radio broadcast.  The legends and theories continued over the ensuing years, including one about a rock that swallowed people who stepped on it.   How "far-out" and spooky is that?
Have a GREAT day . . . someday it will be HISTORY!

© Sharon Hall (Digging History), 2015.