Mystery surrounds the authorship of this beloved hymn of the Church.  A personal favorite of well-known historical figures like Theodore Roosevelt, Woodrow Wilson and General Robert E. Lee, it first appeared in a book entitled A Selection of Hymns from the Best Author in 1787.  The authorship is attributed merely to "K".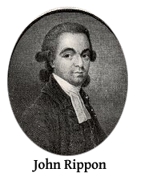 The book was published and edited by John Rippon, an English Baptist minister.  Rippon, an influential man, served as pastor of the New Park Street Chapel (also known as the Carter Lane Baptist Church) in London for sixty-three years. Many hymnologists believe that "K" may have been Robert Keene, the song leader at Rippon's church since later editions of the hymnal attributed the song to "Kn".
Still others surmise that it might have been a Mr. Kirkham, a fellow student of the Wesley brothers and George Whitefield, while some attribute it to George Keith.  In 1888 the Southern Methodist Review noted that their hymnals attributed the authorship to Kirkham.  The LDS (Mormon) hymnal attributes it to Robert Keene.
This majestic and soul-stirring hymn became popular throughout the Northern and Southern states in America, and sung by soldiers on both sides of the Civil War.  Andrew Jackson asked that the hymn be sung at his dying bedside.  Robert E. Lee requested that the song at his funeral "as an expression of his full trust in the ways of the Heavenly Father."
Disagreements over authorship aside, the hymn has a powerful message, solidly based in scripture:
Verse 2:  Fear thou not; for I am with thee: be not dismayed; for I am thy God: I will strengthen thee; year, I will help thee; yea, I will uphold thee with the right hand of my righteousness.  (Isaiah 41:10)
Verse 3:  When thou passest through the waters, I will be with thee. (Isaiah 43:2)
Verse 4:  My grace is sufficient for thee; for my strength is made perfect in weakness. (2 Corinthians 12:9)
Verse 5:  I will never leave thee, nor forsake thee. (Hebrews 13:5)
How firm a foundation, ye saints of the Lord,
Is laid for your faith in His excellent Word!
What more can He say than to you He hath said,
You, who unto Jesus for refuge have fled?
Fear not, I am with thee, O be not dismayed,
For I am thy God and will still give thee aid;
I'll strengthen and help thee, and cause thee to stand
Upheld by My righteous, omnipotent hand.
When through the deep waters I call thee to go,
The rivers of woe shall not thee overflow;
For I will be with thee, thy troubles to bless,
And sanctify to thee thy deepest distress.
When through fiery trials thy pathways shall lie,
My grace, all sufficient, shall be thy supply;
The flame shall not hurt thee; I only design
Thy dross to consume, and thy gold to refine.
The soul that on Jesus has leaned for repose,
I will not, I will not desert to its foes;
That soul, though all hell should endeavor to shake,
I'll never, no never, no never forsake.
AMEN!
John Rippon pastored the New Park Street Chapel from 1773 until his death in 1836.  In 1854, at the age of nineteen, Charles Haddon Spurgeon became pastor of the church and served their thirty-eight years.  It is estimated that in his lifetime Spurgeon preached to about ten million people.
Have a GREAT day . . . someday it will be HISTORY!

© Sharon Hall (Digging History), 2015.