We hear a lot today about the "war on women", but one hundred years ago attitudes toward the fairer sex were very different than today.  One hundred years ago, women, known as suffragettes, were fighting for equality and the right to cast a ballot alongside the men.
For years, their patience had been tried in dealings with the United States Congress.  On January 1, 1915 a column in The Daily Republican (Monongahela, Pennsylvania) entitled "Woman Suffrage Department" decried Congressional tactics.  For years, members of Congress ostensibly avoided voting on nationwide rights for women because they believed it would cost them votes.
However, in early 1915 suffragettes had their hopes raised because twelve states had already granted suffrage to women.  In their opinion, it was time for Congress to get on the band wagon.  As the column stated, "many members of Congress now see clearly that suffrage is to be the band wagon and anti-suffrage the hearse and even if they personally prefer the hearse, they do not want the band wagon to run over them."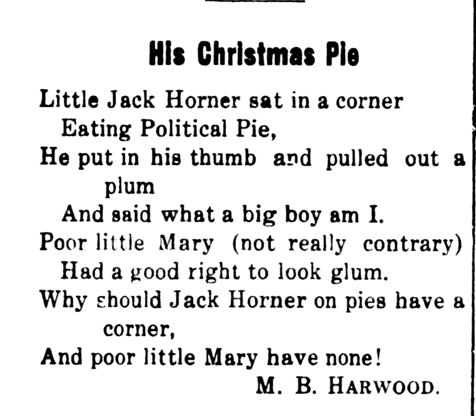 It was still an uphill battle on many fronts and would take a few more years before the Nineteenth Amendment to the Constitution would be passed into law.  Attitudes like those of 'Farmer Radford" still prevailed in many locales throughout the country:
The home is the greatest contribution of women to the world, and the hearthstone is her throne. . . She has been a great factor in the glory of our country, and her noble achievements should not be marred or her hallowed influences blighted by the coarser duties of citizenship.  American chivalry should never permit her to bear the burdens of defending and maintaining government but should preserver her unsullied from the allied influences of politics, and protect her from the weighty responsibilities of the sordid affairs of life that will crush her ideals and lower her standards. . . . directing the affairs of government is not within woman's sphere, and political gossip would cause her to neglect the home, forget to mend our clothes and burn the biscuits. (Comanche Chief, Comanche, Texas, 22 Jan 1915)
And you know what?  There were women who agreed with Farmer Radford.  These women were anti-suffrage, known as "antis", and had been organized since the 1870's.  In 1911 the National Association Opposed to Women Suffrage (NAOWS) was founded, claiming membership of over three hundred thousand.
According to The Reader's Companion to U.S. Women's History, "[A]ntisuffragists maintained that extending the vote to women would reduce the special protections and routes of influences available to women, destroy the family, and increase the number of socialist-leaning voters."  The book also points out that Southern whites feared that giving women the right to vote would somehow undermine their racist Jim Crow laws which disenfranchised African Americans.
I don't remember ever hearing about the "antis", and that's an interesting take on Southern white attitudes in regards to women being allowed to vote.  Granting women the right to vote probably did help chip away at Jim Crow laws eventually, something that Martin Luther King and other civil rights leaders fought to abolish.
New Web Site
A favor please.  The new blog site is "under construction" and a draft version is available.  I'm debating on the font and font size proposed by the designer, and I'd like reader feedback.  You can click the link here, which will open a new tab, and then return here with a comment (box below "Leave A Reply").  Is it easy to read?  Should it be a different font or perhaps similar to the one currently used?  The layout and design is obviously a work-in-progress.  Any suggestions?  Your thoughts would be greatly appreciated.  I'm making notes for the designer and the site should be "live" soon, perhaps by the end of the month.  Stay tuned for details of the switchover.
Have a GREAT day . . . someday it will be HISTORY!

© Sharon Hall (Digging History), 2015.