Today's hymn was written as a poem, and while its lyrics are simple and not particularly eloquent, it has become a song which brings comfort in times of great need.  The words convey the basic need we all have of a Savior to save us, comfort us, lead us and protect us.  According to Ken Osbeck, author of 101 Hymn Stories, "so relevant to the basic spiritual needs of people are these words that many missionaries state that it is one of the first hymns taught to new converts."
Joseph Scriven was born in 1819 into a well-to-do Dublin, Ireland family.  He began attending Trinity College in 1835 and finally graduated in 1842 after a brief stint at a military college in England.  While attending college, Joseph and his parents were converted and became affiliated with the Plymouth Puritan Brethren, whose beliefs included a disdain for organized meetings and church hierarchy.
Joseph was engaged to be married, but tragically his fiancée accidentally drowned the night before their wedding.  Distraught, he decided to leave Ireland and immigrate to Canada to start a new life.  After arriving in Ontario he taught school for a time and then worked as a general laborer.  He aligned himself with the Church of England and wasn't afraid to share his faith, known to frequently read and share the scriptures with his fellow railroad workers.
In 1857 he began tutoring the children of a retired naval officer, Lieutenant Pengelly.  He later fell in love and was engaged to Pengelly's niece Eliza Roche, but tragedy struck again when Eliza suddenly took ill and died the day before their wedding in August of 1860.  As it turned out, he never married.
Following Eliza's death it is said that he immersed himself particularly in the teachings of Jesus at the Sermon on the Mount, and was said to have been a charitable person — one of those kind of people who would give others the "shirt off his back."
When he left the employ of Pengelly in 1870, Joseph moved to Port Hope and joined the Plymouth Brethren there.  He continued his charitable work and would not accept payment for his labors.  For years he milked the cows of a poor widow and delivered the milk to her customers.
One day he was walking walking down the street in Port Hope carrying a saw horse.  A town resident saw him and desired to employ his services, only to be told by a friend that Scriven would not do it for he only did work for poor widows and sick people who had no money to pay.  He was known as the "Good Samaritan of Port Hope."
No one knew of Joseph's poetic gifts until one day a friend, caring for Joseph after he had fallen ill, discovered a piece of paper which contained the words of the poem which we now know today as What A Friend We Have In Jesus.  Years before, Joseph had written the poem to comfort his ailing mother in Ireland because he could not afford to travel there to see her.
His friend asked if he'd written the poem and Joseph modestly replied, "The Lord and I did it between us."  The original title of the poem was Pray Without Ceasing.  In 1869 a book of Joseph's poems, entitled Hymns and Other Verses, was published.  Shortly thereafter composer Charles Crozat Converse wrote the tune, and in 1875 Ira Sankey, well-known musician and evangelist, included it his hymnal entitled Sankey's Gospel Hymns Number 1.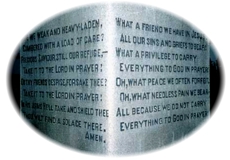 Tragically, and like his first fiancée, Joseph Scriven accidentally drowned on August 10, 1886.  He was buried next to his second finacée Eliza in the Pengelly family cemetery.   On his grave monument are inscribed the words of his famous hymn:
What a Friend we have in Jesus, all our sins and griefs to bear!
What a privilege to carry everything to God in prayer!
O what peace we often forfeit, O what needless pain we bear,
All because we do not carry everything to God in prayer.
Have we trials and temptations? Is there trouble anywhere?
We should never be discouraged; take it to the Lord in prayer.
Can we find a friend so faithful who will all our sorrows share?
Jesus knows our every weakness; take it to the Lord in prayer.
Are we weak and heavy laden, cumbered with a load of care?
Precious Savior, still our refuge, take it to the Lord in prayer.
Do your friends despise, forsake you? Take it to the Lord in prayer!
In His arms He'll take and shield you; you will find a solace there.
A fourth stanza from his original poem was excluded in the final version of the hymn:
Blessed Savior, Thou hast promised Thou wilt all our burdens bear
May we ever, Lord, be bringing all to Thee in earnest prayer.
Soon in glory bright unclouded there will be no need for prayer
Rapture, praise and endless worship will be our sweet portion there.
Have a GREAT day . . . someday it will be HISTORY!

© Sharon Hall (Digging History), 2015.