This epic storm reminded me of an episode of Little House On The Prairie, entitled "Blizzard".  It may well have been based on the 1888 storm which came to be called "The School Children's Blizzard" or the "School House Blizzard."
On January 12, 1888 the weather had cleared after a late December-early January storm system dropped massive amounts of snow across the northern and central plains, which was then followed by a four-day cold blast of extremely low temperatures.  Between January 11 and the early morning of January 12, many places saw temperatures rise dramatically, twenty to forty degrees.
The temperatures had risen in advance of a significant Arctic cold front being fed by Gulf of Mexico moisture.  Many had been home-bound for days because of the snow, ice and brutally cold temperatures.  The "balminess" of January 12 lured people out of their homes – little did they realize how quickly the weather was about to change.
Farmers ventured out to work around their farms, some decided to make a run to the nearest town for supplies and hundreds of people, including schoolchildren, were going about their normal daily routines.  According to an article provided by the Minnesota Historical Society, for some reason the Army Signal Corps had chosen not to issue a warning on the evening of the 11th, even as the storm was barreling across the country at the rate of 780 miles in 17 hours.
On January 8, areas of Canada had seen extreme wind and temperature conditions and as it came out of Canada it headed into Montana then across northern Colorado.  Nebraska, the Dakotas, Iowa, Minnesota, Wisconsin and more were in the storm's path as it turned and headed away from the Rocky Mountains.
In some places it began snowing suddenly by mid-morning, although as the Minnesota Journal reported four days later, "the day dawned bright and clear and every object about the horizon was distinctly visible."  As it turned out, the storm became deadly because of its suddenness and the fact that many people, including schoolchildren, had no clue what was to transpire that day.
The Minnesota Historical Society points out that the state was booming at that time, yet homes and school houses had been hastily built, some perhaps covered only with tar paper roofs – certainly not prepared for fierce winter weather.  An account by Minnesotan Carl Saltee of Fortier described the fast-moving storm:
A dark and heavy wall builded up around the northwest coming fast, coming like those hevy [sic] thunderstorms, like a shot. In a few moments, we had the severest snowstorm I ever saw in my life with a terrible hard wind, like a hurrycane [sic], snow so thick we could not see more than 3 steps from the door at times.
These weren't gently falling snowflakes – with winds exceeding sixty miles per hour, they were more like ice needles.  Anyone out in the elements trying to reach safety faced zero visibility conditions, and in some cases the ice froze their eyes shut.  Settlers who had been out tending to chores were suddenly overwhelmed and lost with few landmarks to guide them.
One woman, a Norwegian immigrant, became frantic and went out to search for her husband – the blinding snow confused her and she froze to death just forty steps from the front door of her home.  One man carrying forty pounds of supplies collapsed 150 yards from his front door, unable to reach it, or perhaps unaware how close he was.
Apparently the weather had been so deceptively mild that morning that many schoolchildren had not worn proper protective clothing like hats, coats or mittens.  For many the blizzard started about the time they were to head home from school.  In some places the temperatures had plummeted well below zero (-47 in Moorhead) and with sixty mile per hour winds the chill factor was extremely and dangerously low.
The Chicago Daily Tribune reported that in Hastings, Nebraska the storm was so sudden that within thirty minutes of its onset streetcar and railway tracks were blocked.  In Omaha the storm began and within three hours the temperature had dropped precipitously to ten below zero.  Before long, all transportation services across the region were completely shut down.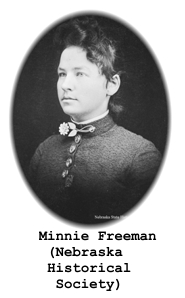 There were many tragic stories that came out of this historical event, especially those of the schoolchildren.  Teachers had sent students home early and some had accompanied their charges to make sure they arrived safely only to become hopelessly lost and freeze to death.
In Plainview, Nebraska teacher Lois Royce was trapped in the schoolhouse, just yards from her boarding house, with three students.  When heating fuel ran about that afternoon, she attempted to lead her students to her home, only to lose track of them.  Two nine-year old boys and one six-year old girl froze to death.  Lois survived but her feet were amputated due to severe frostbite.
Etta Shattuck, a nineteen-year old teacher in Holt County, Nebraska lost her way and burrowed into a haystack where she remained trapped for over three days.  She was found by the farmer and his workers, but died three weeks later from complications of the amputation surgery.  Her tombstone read: "A victim of the January 12, 1888 blizzard."
In Minnesota a peddler wasn't discovered until April 1.  The Minneapolis Tribune noted that corpses were so solidly frozen that striking them produced a "metallic sound."
Not every story was tragic, however.  In Great Plains, South Dakota two men created a guide rope by tethering one end to the nearest house and heading for the school.  After reaching the school they tied the other end there and were able to guide the children to safety.
Minnie Freeman, a teacher in Mira Valley, Nebraska, was hailed as a heroine after leading thirteen schoolchildren to her home one half mile away – all survived.  Later that year someone wrote a Song of the Great Blizzard, entitled "Thirteen Were Saved" or "Nebraska's Fearless Maid."
Seymour Dopp of Pawnee City, Nebraska kept his students at the school and throughout the night they burned wood to keep warm.  The following day parents of the seventeen students came to rescue them, braving five-foot snow drifts.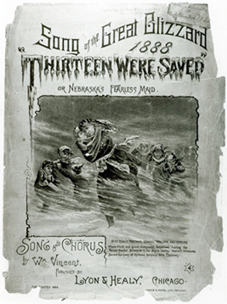 As a result of the storm and its aftermath, at least 235 deaths were reported.  Those who managed to survive after being caught in the storm, however, carried physical scars for years to come.  As the Minnesota Historical Society reports, quoting from a book by David Laskin called The Children's Blizzard: "For years afterwards, at gatherings of any size in Dakota or Nebraska, there would always be people walking on wooden legs or holding fingerless hands behind their backs or hiding missing ears under hats."
Thereafter, citizens decided to build sturdier school houses for their children, especially in Minnesota.  It would become a day that people of that region would remember like so many other epic events in America's history like December 7, 1941, November 22, 1963 or September 11, 2001.  January 12 was their "day of infamy."
Years later, sometime in the 1940's, survivors in Nebraska formed the Greater Nebraska Blizzard Club.  Survivor stories were gathered and published in a book entitled In All Its Fury.
The winter of 1887-1888 was a brutal one, said to have been the tail end of a six-year period known as the "Little Ice Age", which some believe was precipitated by the August 1883 eruption of Krakatoa in Indonesia which may have caused extreme weather around the world.   Another epic blizzard (the Great Blizzard of 1888) hit the East Coast a couple of months later – more on that in a future article.
Everyone have a great day — someday it will be history!
© Sharon Hall (History Depot), 2015.