The so-called Gilded Age of the late nineteenth century was a period of rapid industrialization and economic expansion in the United States.  A by-product of that time, especially in the 1890's and into the early twentieth century, was a phenomenon known as "yellow journalism".  While today's article isn't specifically about that topic (but watch for a series in the future), newspapers tried just about everything they could dream up to sell newspapers – including s-t-r-e-t-c-h-i-n-g the truth, especially with sensational headlines and little or no legitimate research to back up a story.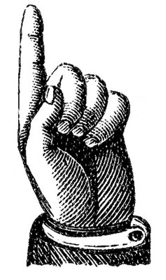 This article has been removed from the web site but will be updated, complete with footnotes and sources in a future issue of Digging History Magazine.  History is full of all kinds of hoaxes, schemes and frauds.  If you're a genealogist, there are genealogical fraud instances which merit caution.  These were featured in an article entitled, "Don't Be Duped: Genealogical Fraud", and published in the February 2018 issue of Digging History Magazine.  The issue also includes a list of surnames which might be "suspect".
I invite you to check out Digging History Magazine.  Since January 2018 new articles are published in a digital magazine (PDF) available by individual issue purchase or subscription (with three options).  Most issues run between 70-85 pages, filled with articles of interest to history-lovers and genealogists — it's all history, right? 🙂  No ads — just carefully-researched, well-written stories, complete with footnotes and sources.
Want to know more or try out a free issue?  That's easy if you have a minute or two.  Here are the options (choose one):
Scroll up to the upper right-hand corner of this page, provide your email to subscribe to the blog and a free issue will soon be on its way to your inbox.
A free article index of issues is available in the magazine store, providing a brief synopsis of every article published in 2018.  Note:  You will have to create an account to obtain the free index (don't worry — it's easy!).
Contact me directly and request either a free issue and/or the free article index.  Happy to provide!
Thanks for stopping by!