The ghost town of Independence, Colorado received its designation for the National Register of Historic Places on April 11, 1973.  Gold was discovered there on July 4, 1879, thus giving the town its name, although it was also called Last Dollar, Chipeta, Mammouth City, Mount Hope, Farwell, Sparkill and Hunter's Pass.
It was the first settlement in the Roaring Fork Valley of Pitkin County.  Geographically it was located 13.5 miles east of Aspen at an altitude of 10,830 feet above sea level.  Both Independence Pass and the headwaters of the Roaring Fork River are nearby.  Also in the vicinity is the Collegiate Peaks Wilderness, home to the highest points in Colorado (13,000 to 14,000 feet above sea level).  With snow falling from October through May, Independence was hardly a hospitable place to live.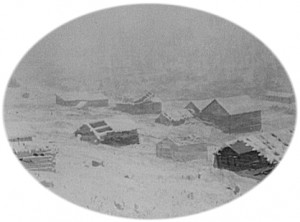 Silver was discovered in Leadville in 1877 and by 1879 prospectors were heading west and into the Roaring Fork Valley after hearing of mining prospects there. The Independence claim was discovered on July 4 and soon a tent city sprang up. The next year the town had some permanent buildings and about one hundred and fifty residents.
In 1881 the Farwell Consolidated Mining Company, a group of investors from Leadville, bought all the mining claims and built a sawmill and stamp mill. Just two years after gold was discovered, Independence was home to some five hundred residents with restaurants, saloons, a newspaper, and other retail establishments. The mining company took out $190,000 worth of ore over the next two years, almost five million in today's dollars.
In 1882 there were approximately fifteen hundred residents and forty-seven businesses, including a post office and boarding houses. Even with the boom, however, Independence lost out to Aspen as the county seat of Pitkin County. As it turns out the "boom" was short-lived. Production dropped to two thousand dollars and by 1883 the original mines had played out. With that dropoff, business and miners moved on to Aspen where better economic opportunities were available in the county seat.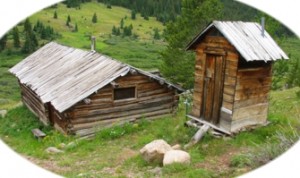 By 1888 ninety percent of the peak population had dwindled and only about one hundred and fifty residents remained. Aspen had their own boom but after the Panic of 1893 and the repeal of the Sherman Silver Act, Independence's future became more uncertain. After a series of seven severe snow storms in the winter of 1899, all but one resident evacuated and headed to Aspen. Residents tore planks from the sides of buildings and used them for cross-country skis to traverse the deep snows for the trek to Aspen.
Even though prospecting came back briefly for a couple of years beginning in 1906, by 1912 the town was entirely abandoned. The stamp mill burned that year and other buildings were left to deteriorate. In 1980 the Aspen Historical Society, with the cooperation of the U.S. Forest Service, began efforts to preserve the remains for future generations.
© Sharon Hall (Digging History), 2014.