They called her "Doc Susie" and it has been said that the 1990's television show Dr. Quinn, Medicine Woman was in part based on the life of Dr. Susan Anderson, a one-of-a-kind frontier doctor.
Susan Anderson was born January 29, 1870 in Monroeville, Indiana and her brother John was born two years later in 1872.  The family later migrated to Wichita, Kansas where Susan graduated from high school in 1891 after having taught grammar school from 1885 to 1887 (her father wanted her to delay high school so she could attend with her brother).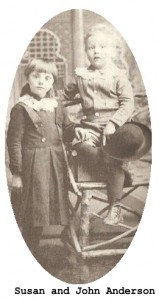 At the age of five and living in Indiana, Susan wanted to grow up and be a telegraph operator. However, her father W.H. Anderson "had his heart set on me being a doctor," Susan later reminisced. She was admitted to the University of Michigan School of Medicine, one of the few schools at the time which admitted women, in 1893 and graduated in 1897.
According to The Magnificent Mountain Women: Adventures in the Colorado Rockies (MMW), "[I]n addition to taking the standard courses, Susan did some special work in pathology and studied a new course, bacteriology. She had no instruction in pediatrics or psychiatry, since none was offered, and her practical training did not include contact with patients." Her graduating class of sixty-four had thirteen females, at a time when the acceptance of female doctors was beginning to rise with the end of the Victorian era and the transition to a new century.
After graduation she traveled to Cripple Creek, Colorado to join her father and brother who had migrated there after the discovery of gold. She began her practice of medicine in the rambunctious boomtown, later pointing out that she was accepted by the miners "with surprising gentleness". However, her father was disapproving, insisting that Cripple Creek was no place for a lady, so after three years she acquiesced and left.
Susan moved to Denver and surprisingly found a dislike for female doctors. Traveling further north to Greeley, she encountered the same sentiment. She resorted to working as a nurse, although she wasn't trained to do so. Discouragement overwhelmed her and she later diagnosed herself with tuberculosis. The summer before she had taken a trip to the mountains west of Denver and she remembered the crispness of the air and how green and beautiful it was. She determined to move to Fraser, which had been established in 1904 in anticipation of the Moffat Railroad coming through – "she made up her mind to move to Fraser, to die or be cured."
Fraser, at the time, was one of the coldest locations in the country and winter snow often drifted across the railroad tracks, leaving residents stranded without rail transportation for extended periods of time. When she arrived in Fraser, Susan rented a room from a local family and was hired as a grocery store clerk. Not long afterwards, however, word spread that she was a doctor – her first patient was a horse!
As her own health improved, her medical practice grew. She would recall later that it took time for folks to realize she was indeed competent as a female doctor. "I had two good reasons why I simply had to make good," she said. "First I had to prove a woman could be a good doctor. And secondly, I graduated from a great school. I couldn't bring shame upon the school." (MMW, p. 75)
As time passed and she gained the confidence of the townspeople, Dr. Susan Anderson became known as simply "Doc Susie". Nothing seemed to stop her from seeing a patient in need – whether rain or shine, or a raging blizzard.
Once she walked twelve miles to tend to a woman at the Box Factory Lumber Camp, above Tabernash. Another time she hailed the train on a bitter winter night and rode as far as Parshall, where a man met her with a team and sled. They rushed up the Williams Fork, barely in time for Doc Susie to delivery a baby boy in Milner. (MMW, p. 75)
Although quite attractive, petite and slender, Doc Susie never married. Years later at the age of eighty-one, she told a reporter, "I could have .. if I hadn't flown off the handle so much and said 'pooh' too many times." (Altoona Tribune, August 6, 1952) At the time of the 1952 article, she had been employed as a railroad doctor for forty years, in addition to her duties as the town's sole physician.
Her tenacity and determination to treat her patients was legendary:
She has used every type conveyance – sleigh, skis, snowshoes, horses and the automobile – for her missions of mercy through the mountains with temperatures as low as 50 degrees below zero and blizzards raging "so hard I couldn't see the horses in front of the sleigh for the snow." Doc Susie even hiked up a 13,000-foot mountain uncountable times to put spints[sp] on the broken arms and legs of timber workers. (Altoona Tribune)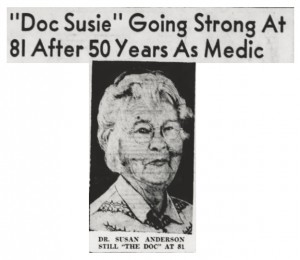 During her medical training she had considered dropping out because of the difficulty she experienced when dissecting a cadaver, so she may not have performed too many surgeries during her medical career. Doc Susie didn't use chloroform or any other drugs for pain suppression. She did, however, employ the use of patent medicines which, in the late 1800's and early 1900's were widely used.
Doc Susie was particularly adept at treating pneumonia, a common illness during the bitterly cold winters. She had a tried and true method:
Doc Susie's remedy was simple and, apparently, often effective; it involved a Number 2 galvanized washtub, water as hot as the patient could stand, and lots of blankets. Ruth Phillips recalls that Doc Susie twice cured her brother-in-law with this method. "She'd always give them a hot bath, no matter who they were – the biggest, roughest men . . . and she'd cover them up and they'd stay covered – even if she had to sit on them, they'd stay covered." (MMW, p. 78)
She was said to have both a soft and hard side to her personality. One resident recalled how when she broke her arm Doc Susie was so kind and her voice sweet. To a frightened four-year old that made an impression: "She made you feel safe. She got her some cardboard and she made her a splint. She padded it all with cotton and she wrapped it up and tied it together with – I don't know – string or what not. I can still remember her voice." (MMW, p. 78).
In the mid-1920's she took on the job of coroner for Grand County in the middle of the former coroner's term. Not long after taking the position, a brutal murder by hanging occurred near Grand Lake. She presented medical evidence at the trial of two local men who had been charged with the crime. Her testimony led to their death by hanging, but she felt guilty for her part in sending two men to their death and decided not to run for re-election after her term as coroner expired.
One aspect of her "hard side" was her disdain for liquor. In her opinion alcohol had ruined too many lives. She was "deputized" in 1924 and once assisted the sheriff in uncovering some homemade liquor hidden in a woman's bed – her husband was arrested, tried, fined $300 and spent thirty days in jail.
Even after living and practicing medicine in Fraser for years, she longed to return to her native Indiana – she missed having flowers. Twice she did return to Indiana only to come back to Fraser, her real home. In Fraser she had her own home, and she was especially frugal, eating very little and sewing her own clothes in the style of the early 1900's. In the winter it was a long dress down to her ankles, long underwear and boots. In summer she wore cotton dresses with petticoats and black button shoes.
While she never made a lot of money, she managed to get by. Her patients paid her in eggs, a chicken, vegetables, whatever — or nothing at all. She was dedicated to her patients, telling one family passing through when they were worried about paying her for treatment of their daughter, "I don't doctor for money, I doctor for results." That's not to say she was dirt poor, however. According to MMW, friends would often see her with a roll of bills which she kept in her medicine chest.
After reaching her seventies, Doc Susie didn't keep regular office hours and spent time with the townspeople who opened their homes to her for a meal or a visit. At eighty years old she no longer went out on night calls, except for an emergency, and no longer delivered babies. At the age of eighty-six she suffered a stroke and was moved to a nursing home in Denver. She did recover enough to talk but was never quite the same again. When some friends went to visit her in Denver they found her "waiting for somebody to come take her to Indiana."
Doctor Susan "Doc Susie" Anderson died on April 14, 1960 and was buried in Cripple Creek's Mount Pisgah Cemetery where her brother John was buried in 1900, he a victim of a flu epidemic. Her tombstone was paid for by the residents of Fraser and later a street was named after her – "Doc Susie".
In 1947 she returned to the University of Michigan for the fiftieth anniversary of her graduation, where she was inducted into the Emeritus Club and received a small commemorative gold pin. When interviewed in 1952 for a newspaper article that was picked up by the wire service and printed in newspapers around the country, Doc Susie gazed thoughtfully toward the tree-dotted mountainside while rubbing the gold pin and whispered, "Just 50 years of good hard work."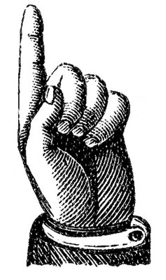 Did you enjoy this article?  Yes? Check out Digging History Magazine.  Since January 2018 new articles are published in a digital magazine (PDF) available by individual issue purchase or subscription (with three options).  Most issues run between 70-85 pages, filled with articles of interest to history-lovers and genealogists — it's all history, right? 🙂  No ads — just carefully-researched, well-written stories, complete with footnotes and sources.
Want to know more or try out a free issue?  That's easy if you have a minute or two.  Here are the options (choose one):
Scroll up to the upper right-hand corner of this page, provide your email to subscribe to the blog and a free issue will soon be on its way to your inbox.
A free article index of issues is available in the magazine store, providing a brief synopsis of every article published in 2018.  Note:  You will have to create an account to obtain the free index (don't worry — it's easy!).
Contact me directly and request either a free issue and/or the free article index.  Happy to provide!
Thanks for stopping by!